It's September 18th, a very special day. Happy birthday, Grandma!
It's also the birthday of another very special person, Dan Povenmire:
Dan Povenmire is my hero. He, along with his partner Swampy Marsh, have done some truly great things in animation. They are the creators of "Phineas and Ferb", which is probably the greatest show currently on TV. Dan plays the voice of Dr. Heinz Doofenshmirtz, an evil scientist who regularly engages in evil and very very funny exploits. But Doofenshmirtz is only one of the great things Dan has given us.
Dan K. Povenmire was born September 18th, 1963. He was raised in Alabama, where his mother encouraged him to partake in fun activities, and to enjoy the summer months. With artistic aspirations, Povenmire dreamed of brush and pallet, but ended up with only the brush. Anyway, he was very good at art in his childhood years. He was even winning art contests, and making money from his works.
Dan Povenmire doesn't really come up in the animation industry until 1990, doing storyboards on "Teenage mutant ninja turtles", and a show called "James Bond junior". When The Simpsons moved their animation unit from Klasky-Csupo to Film Roman in 1992, he became a character animator, first credited on the episode "Lisa the beauty queen" directed by Mark Kirkland. Povenmire also worked on "Mr. Plow", "Homer's triple by-pass", "Homer's barbershop quartet", and "Cape Feare", among others. While working on The Simpsons, he befriended one Jeff 'Swampy' Marsh, who worked as a layout artist. In 1993, Jeff and Dan went to Nickelodeon, to produce episodes of "Rocko's modern life" for Joe Murray. The first episode they made together was "The good the bad and the wallaby", which featured an action chase scene, a musical number, and a lude gag where Heifer the steer is sucked off by a milking machine.
Good-Bad-Wallaby
by PigLips
Dan and Swampy went on to make several more fine and funny Rocko shows, including "Zanzibar", the environmentally themed musical. Dan and Swampy won an award for writing the songs.
Aside from his involvement in Rocko's modern life, Povenmire continued to animate on The Simpsons, working on "And Maggie makes 3", "Homer vs. Patty and Selma", the first half of the 'Who shot Mr. Burns' saga, and "You only move twice". In the fourth and final season of Rocko's modern life, Dan got to direct his own episode, "Driving Mrs. Wolf". After Rocko, Swampy went to England, and Dan Povenmire stayed on at Nickelodeon, making storyboards and such on shows like "Hey Arnold", "CatDog", and "Spongebob Squarepants".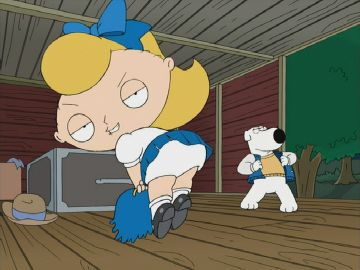 Then came Family Guy. Dan Povenmire joined up during season 2, and he directed the controversial "When you wish upon a Wienstien" and "Road to Rhode island" episodes. Dan brought a refined sense of song and dance to Family Guy, and kicked off the popular series of Brian and Stewie road trip episodes, which have been an institution ever since. Dan continued to direct until Family Guy met it's maker in 2001, putting out a brilliant collection of episodes including "To love and die in Dixie", and "Brian wallows, Peter's swallows", highlights of the initial run.
When Family Guy was canned, Dan went back to storyboard The Simpsons during season 13; he also wrote a few episodes of SpongeBob, and Directed some of the 'Larry Doyle' Looney Tunes shorts, which have been not been very well received.
Eventually they brought Family Guy back in 2005, and Dan was reinstated. He directed his own episodes, as well as musical numbers in other episodes, like 'Wake me up before you go-go' in "Jungle Love", and 'Shipoopi', which is probably his most famous work, from "Patriot Games".
With an incredible sense of timing, and the ability to incorporate gags and ideas with music on par with Friz Freleng and Wilfred Jackson, Dan Povenmire was at the top of his game. In 2007, Dan Povenmire left Family Guy. He talked Swampy Marsh into coming back from England, and the two of them went to Disney in attempt create a show of their own design, which they had been working since 1994. While it was an unfortunate blow for Family Guy, surely this new development would provide something even better? And now we come to Phineas and Ferb.
It's a show about two kids who have a pet Platypus, and they're enjoying the summer time. Their paranoid sister Canadace is always trying to get the boys in trouble, because they're summer time activities are particularly unusual, and often larger than life. Meanwhile the Platypus is a secret agent, tasked with preventing the villainous Dr. Doofenshmirtz from taking over the tri-state area with his half-baked evil schemes. If you haven't seen this show, I suggest you check it out, because it's pretty funny. Dan Povenmire has even put in some of those great musical numbers of his.
Congratulations on a brilliant career and a wealth of animated entertainment, Mr. Povenmire. You are probably the most entertaining person alive right now.